The 100 Austin Intersections Most in Need of Pedestrian Improvements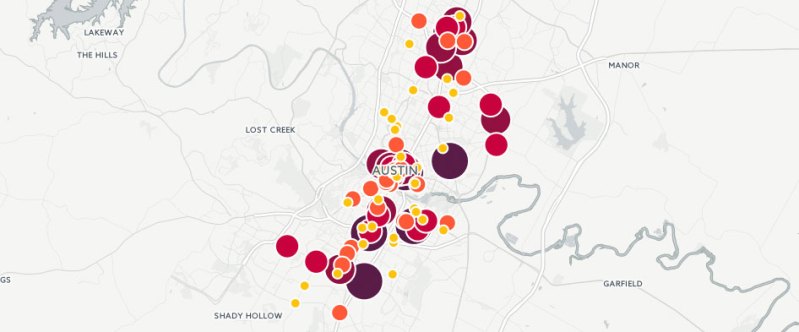 Austin, through its Vision Zero Program, is setting an example for the rest of Texas to follow in data-based interventions to end traffic deaths.
But it also helps to put traffic safety data directly in the hands of the public, so people can see for themselves where action is needed. And for that we can thank our friends at Sutliff & Stout, the law firm that sponsors Streetsblog Texas. They wanted to see which intersections in Austin are the most dangerous for pedestrians, so they dug through six years of TXDOT crash data.
The map indicates a clear path for prioritizing safety improvements. For instance, here are four intersections that stand out as especially in need of changes:
The Austin intersection with the most pedestrian injuries in those six years is Bluff Springs Rd. & E William Cannon Dr., with 14 injuries.
The intersections with the most severe pedestrian crashes are S Congress Ave & W Ben White Blvd, Ed Bluestein Blvd & Loyola Ln, and Craigwood Dr & E Martin Luther King Jr Blvd. At these intersections, 54 percent of crashes resulted in fatalities.
As for what the city is up to, the City Council recently received $1.9 million in Transportation Alternative Program grants from TXDOT for pedestrian infrastructure to improve safety at intersections. That will be used to deploy countdown timers at 500 intersections across the city, according to Community Impact. The funds also will be used for at least two new Pedestrian Hybrid Beacons (a controlled crossing for pedestrians with a red light), and at least 12 accessible pedestrian signals and countdown timers designed for the visually impaired.
Austin Transportation Department staff say that this funding is sufficient to upgrade "nearly all signals throughout the city with countdown timers."
Originally, this grant funding was intended to focus much more on Pedestrian Hybrid Beacons on key roadways. However, following passage of the Mobility Bond last November, plans changed. The largest portion of the bond funds is intended for completely redesigning and rebuilding key corridors in need of extensive pedestrian safety retrofits — a complete rethinking of the street environment, not just the signals.
City staff promised me that the original intended crossings will still be built, but will wait for the massive undertaking of planning out how to spend the full $720 million in bond funds to optimize the use of PHBs within the broader project of redesigning streets.