It's On: Legislators Call for Safe Neighborhood Streets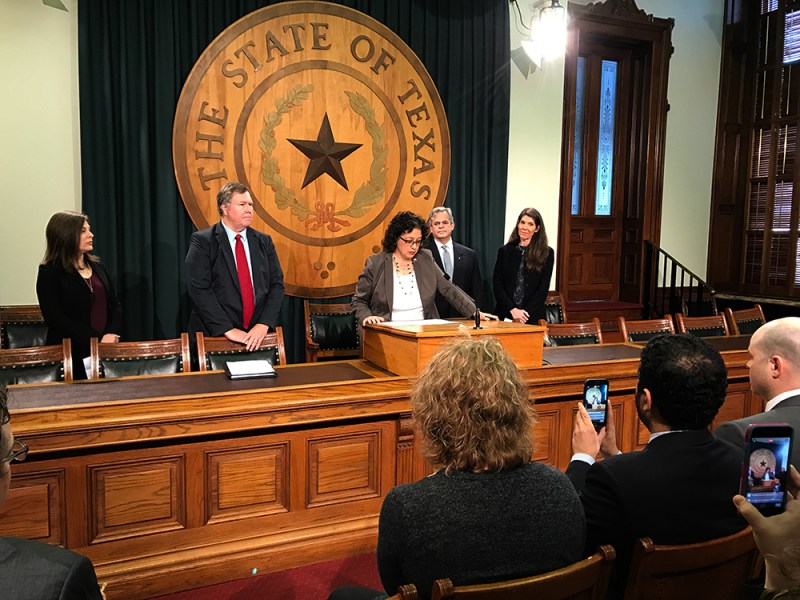 Yesterday Texas State Representative Celia Israel called for passage of the Safe Neighborhood Streets Bill (HB 1368). She was joined by Austin Mayor Steve Adler, Fort Worth Council Member Ann Zadeh, and Houston Public Works and Engineering Department Deputy Director Jeff Weatherford, as well as Representative Helen Giddings, who said that she would be the first co-sponsor of the bill.
The Safe Neighborhood Streets Bill would lower the default speed limit in Texas urban areas from 30 miles per hour to 25 mph. The new limit would apply unless posted signs marked a different speed limit. In practice, the bill would affect local residential neighborhood streets.
Israel has also filed a second bill, HB 1745, that would allow cities to change their default speed limits to 25 mph without the costly burdens mandated by current law, which requires cities to post signage on every block with a 25 mph limit.
The rules have hampered cities' efforts to make streets safer. The City of Houston concluded that it should reduce the speed limit on all residential neighborhood streets from 30 to 25 mph, but has not been able to make the change because it would cost millions to post signs on both ends of every block. The City of Austin recently passed comprehensive reform to encourage safer street designs, but the state code limits its effectiveness.
The public officials were joined by Kathy Sokolic, a Mueller neighborhood resident whose family was directly affected by Texas traffic violence. A person driving a pickup truck on a residential street in Mueller hit Sokolic's young nephew, leaving him severely injured and possibly permanently hospitalized. She shared her family's story and asked the Texas Legislature to take reasonable steps to prevent this kind of tragedy from happening to other families.
You can sign the petition to ask the Texas Legislature to pass a Safe Neighborhood Streets Bill in 2017. You can also reach out to your Texas House representative — whom you can find here — and ask them to co-sponsor the Safe Neighborhood Streets Bills: HB 1368 and HB 1745.
More coverage of the bill